FOR SALE

_________________________________________________________________

NOT ANY DOGS FOR SALE AT THIS TIME
Please check the prices of protection trained dogs on the internet before contacting us.
If you are looking for a rescue dog, check our "dog rescue" page.
ANDORA IS NOT FOR SALE, WHY?
Andora De Castle of Presa
Highly Protection Trained Presa
- Born 6/8/2013
- UPPCC registered
- Has Advanced Protection training
- Ability to eliminate attacker with knife or gun
- Great guard dog with very hard bite
- House dog, fully housebroken
- Hips X-ray excellent

Andora is not for sale anymore.
Here is the reason why I put this excellent protector up for sale, and why I changed my mind and don't want to sell her anymore:
I saw in the news, a young woman went for jogging in the morning on the beach in California and got killed. Then,
next day I went on the internet to look at that story again and found more women got killed on jogging or on morning walk in other states as well. So, I fell obligated to offer my help.
Andora has unlimited energy and can keep up with any jogger for any distance. She is also very tough protector. On command, anybody can pet her. On other command she will attack, and her attack is brutal. If a woman would be jogging with Andora, or any other of my trained dogs, she wouldn't get killed, but the attacker would get killed. However, price tag of protection dogs like Andora might be too high for most people.
Then I realized that this dog loves me so much and will be alredy 7 years old, so it wouldn't be fair to her to get rid of her, but would be much better to keep her with me in my home, the environment she lived all her life.
Sorry joggers, but .....I might have other protection trained dogs available soon.



FOR MORE PICTURES OF PUPPIES FOR SALE CLICK HERE


What our customers are saying about our Presas, click on: NEW !!! Customer VOICE Testimonials

NEW STORY
This man was driving all of the way from Alabama 1,800 miles down to Arizona to get his puppy. And he
said it was worth it every penny. He's got fantastic male puppy, never seen such a great dog in his life.
Yes it makes me happy, to hear something like that. I am realy glad I sold this boy to this good man. We
had a good time, and my boy will have a good life with him and his family, and that's all what matters to me.
Recent e-mails:
This e-mail was sent from a real Presa lover from Slovenia, Europe.
If we cant make agreement for Zethor I will wait for next litter and reserve a pup. Since I want a pup with crop ears and here in Slovenia is also not allowed I would have to wait for it for 6 more months but it is worth.. I have been monitoring your dogs for years and there is no doubt that you are one of the best breeders of True Presas in the world.. We have many DogoCanario breeders near by, but I dont want a dogo but presa.. I want to have a dog that will protect my familly and my house, in one word Guardian Dog...
We are receiving many e-mails like this from all over the world. We are proud that we do something
right here, preserving Real Presa appearance and temperament.
Other Story
Nice couple from Canada drove 4,000 miles just to get two puppies from us. That's how they value our dogs,
and that's how they value now their dogs. These people are true dog lovers, and people like these are the reason why we
are still breeding. Only for real dog lovers who appreciate high quality real Presa Canario. They told us that our dogs
actually look better in real, than on the pictures.
Now, what happened after that? After 3 years I received this: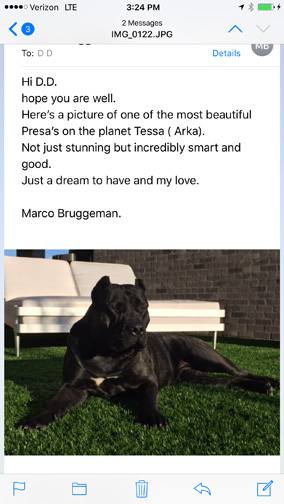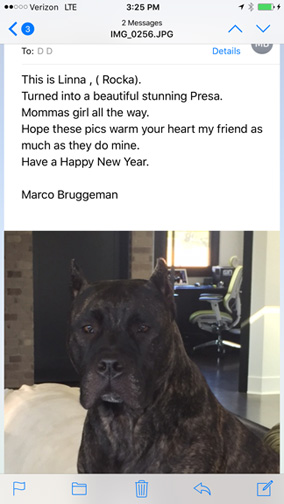 It was the best gift I've got for the New Year!
Arka is out of Tarzana and Flex, and Rocka is out of Petra and Hercules.
________________________________________________________________

What our customers are saying about Castle of Presa puppies, click on: NEW Customer VOICE Testimonials
_________________________________________________________________