Our Dogs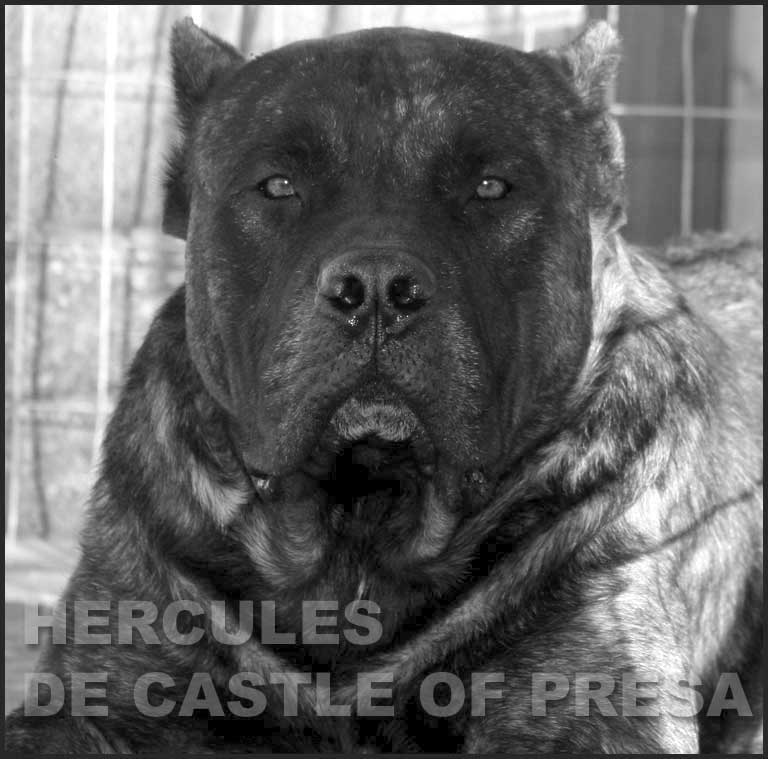 The oldest and the most famous breeders of the original Perro de Presa Canario were Manuel Curto Gracia and Mr. Juan Carlos Asensio who owned Atlas-Asio kennel. Atlas-Asio kennel doesn't exist anymore but there are some breeders who still have Atlas-Asio blood lines. Our Hercules de Castle of Presa has a very similar look to those old Atlas-Asio Presas, maybe an even better look, and he definitely has the same drive. We are proud that we can recreate the old glory of the original Presas (not "Dogos") with our new Castle of Presa blood lines.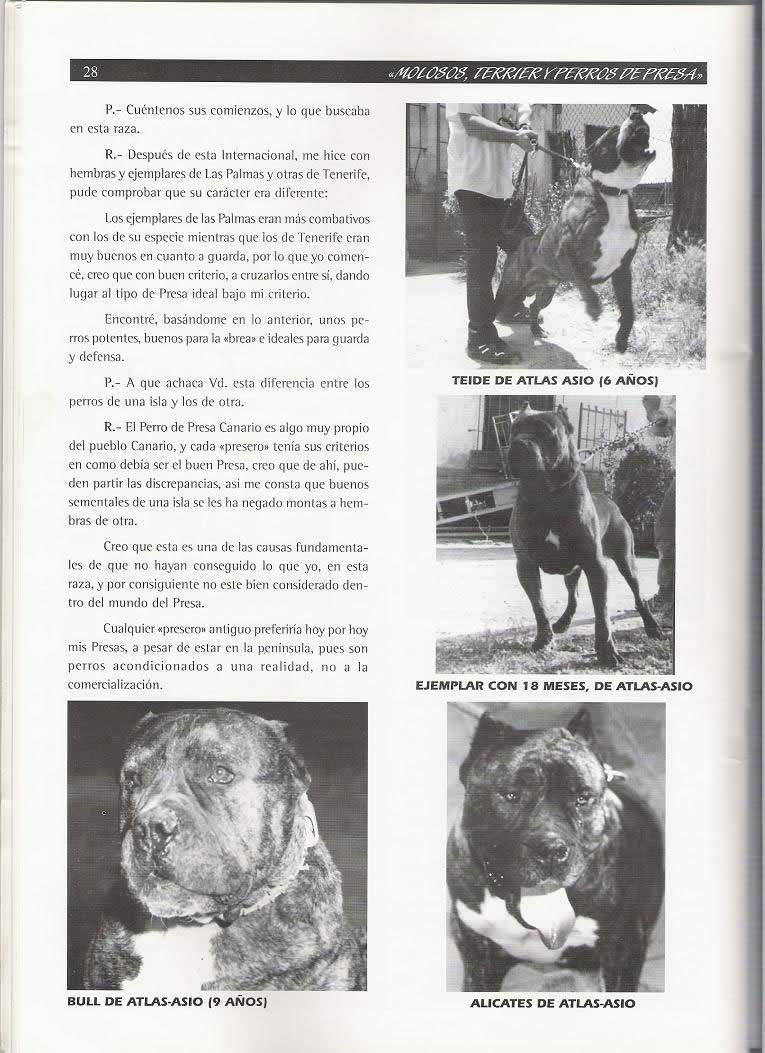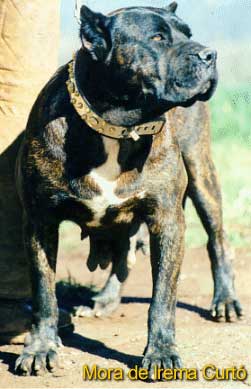 Above, you can see Mora de Irema Curto from 1990-98. Curto started with dogs like Mora but they don't have this type of Presa anymore. Below, you can see young Arain de Castle of Presa. He looks very much like Curto's Presas 20 years ago. We are back to where Curto started years ago. We are proud to present Presa beauty at its best. Arain just earned "Best of Breed" and "Best in Show" in Finland.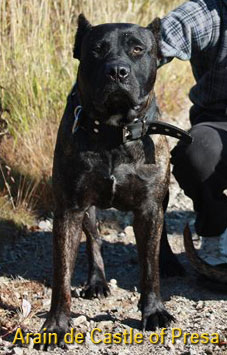 THE CASTLE OF PRESA DOGS
I have a new fantastic generation of Presas: Andora, Xena, Toro, but I will never forget Panthera, Tarzana and Hercules. I have trained many dogs since 1972, but those three were the best dogs I've ever had. They were every trainer's dream. Usually you repeat a new trick about 50-80 times during several months to make it stick. Well, I showed "Stay" to Panthera and Tarzana 3 times and it became permanent. Anytime I said stay, they knew what I want from them and they did it right without any correction. It took me about the same amount of time to teach those three dogs "Jump" over an 8 foot wide wash (ditch). Anytime I pointed my finger to the ditch and said jump, they jumped over. It was so much fun to train these dogs.
Presa dogs don't do well if they are in their kennel full-time. They want to be part of the family and they need a lot of love.
---
Andora is a large, strong, dominant female with a very high drive and great defensive drive. We imported Andora from Europe. She is 50% Curto after her mother Donna de Irema Curto. Andora is playful, has a stable, balanced temperament, and shows defensive properties when it comes to defending her territory. We value Andora for her high protection abilities and her high drive. She has so much energy. She can run all day long and doesn't get tired. Andora had a few fantastic litters and she was excellent mother. She is retired from breeding and is with her daughter Xena my personal house dog and protector.
---
XENA de Castle of Presa The best of the best. Pride of my breeding. Xena is large, strong, very muscular female. When my personal dogs Tarzana and Hercules passed away, Xena immediately became my personal dog. She is always with me. Xena is the first dog to sleep in my bed with me. My other favorite dogs always slept next to my bed. Xena is as tough of a protector as her father, Hercules. She is a very powerful dog. She is still in protection training but her hard bite is already devastating. There is only one out of million Presas like Xena. She is highly intelligent. With her beautiful shiny coat, her beauty is breath stopping. She is confident, with a stable, balanced temperament, and very affectionate, obedient, and protective.Xena can be a very mean bitch when it comes to protection. She doesn't even like cars passing by my property. If there wouldn't be a fence in between, she would attack the car. But when I call her up, she is immediately in the of me. If I leave her in my car, nobody can get even close to it. And I didn't even train her to guard my car yet.
---
Toro de Castle of Presa Toro-Torez is my boy. I just love this boy. Presas like Toro get born only once in 100 years. He is large and strong like a bull with a huge head. However, even more impressive is his temperament. He is very loving, always trying to please me, very obedient, and learns fast. Toro is a natural guard dog and protector. He has so much power. He can turn a 6', 300 lbs man down. His bite crushes the bones. Toro is now in protection training. He will be as tough as Hercules.
---
---